Counting characters is really the most frustrating job. After some lines, you will become distressed. In that case, use our automatic Character Counter online tool. It's easy to use, quick and accurate. Now no more manually counting the characters. Use the best counter online in just a few seconds.
Like this? Please Share It
---
More Tools
No matter how long your lines are, our system will use its algorithms to show the 100% accurate character count in just a few seconds. The process is very simple. How to count the number of characters is also discussed here. From now your work will become very easy.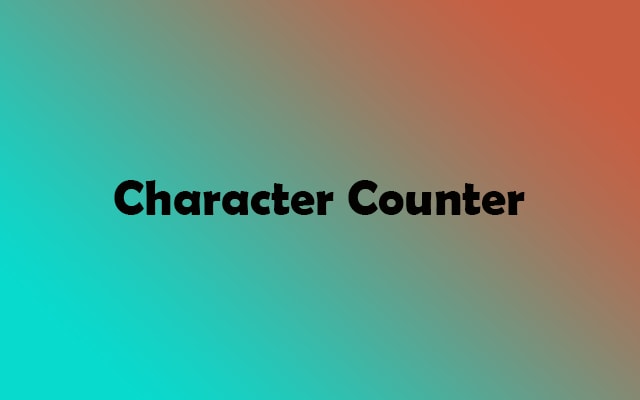 Benefits of using Character Counter Tool
Imagine a situation in which you have to find out the exact number of characters present in a paragraph. One way to know is by manually counting the characters.
Firstly, it is very frustrating. Secondly, no one can guarantee that the counting is accurate. So for that, we usually count again to confirm. Which is again a very annoying thing to do. Consequently, your time is also spent a lot.
Using this counter you will not face these kinds of problems. Just type or paste the paragraph in the text box. The numbers of characters will appear at the upside of the text box. If someone chooses this way he saved his time and effort.
Whereas on the other hand, another guy is still counting 3, 4, 5, 6, …, 999, 1000, 1001. Then again rechecking to confirm!
What are the uses of counting characters?
We have learned why we should use the character counting tool. So now let's try to answer the question that what are the uses of this tool?
Most commonly the character counter is used by the writers who wish to know the length of characters. Or they might be writing something which has a limited number of character usage.
Also, you can use this tool in Social Media Platforms. For example, if you want to write a tweet then it must be less than or equal to 280 characters only. Using our tool you can count the characters to make sure it's accepted.
In a Facebook post you can only have 63,206 characters. Here also you can use this counter before writing a post. The character limit on Facebook comment is 8000.
While sending a message to make sure that all your texts are sent, you should send the message in its specified limit. Know your SMS limit. Then this counter will help you to write the message. Here you can watch the live characters so that you don't exceed the limit.
How to use Character Counter tool?
We know about the benefits and uses. It's time to do something practical. How to use this tool? Follow the steps given below. The process is very simple.
This is an online service, therefore, you will need an active Internet connection to use it.
Firstly, you can use any device Smartphone / Laptop / PC. On a device which can access Internet open this website: Character Counter
As the website loads up you can see an empty input text box.
There must be written "Write/Paste your content here".
Copy the content whose characters you want to count and paste it there.
As you will paste it there. As a result, the total character count will be displayed above.
You can also type the text in the input box and know the total written characters. For clearing the input box click on the "Reset" button. It will give you a new fresh input box. Now you can start typing or paste another content.
Above the input box, you will see the total words, characters, and lines count.
Other Features:
The mainstream work of this counter is to show the exact number of characters in the content entered. You can also see the number of words and lines. At one time you can see three things: Total number of characters, words, and lines.
Conclusion
So, these were all things about Character Counter. Even more, the user interface is made very simple. So, anyone can use it very smoothly. Just type or paste the content. You will get total words, characters, and lines.