Student life is literary full of grades, marks, and percentage. If you are in school or college then this Amazing Weighted Grade Calculator will surely help you. By calculating grades you can know your abilities. It also helps to set goals for preparing for the next exam.
GPA Calculator Final Grade Calculator Standard Deviation Calculator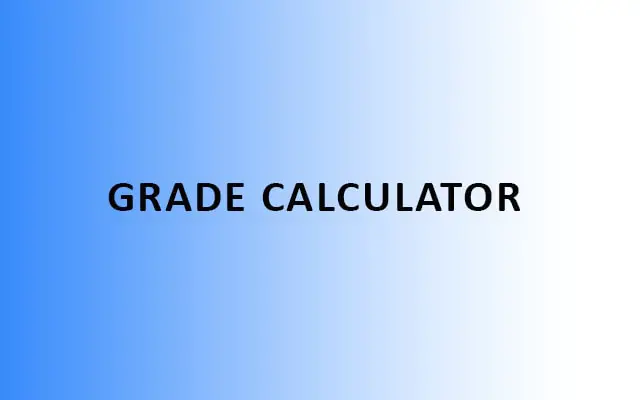 You can use your mobile or computer calculator for calculating grades but it's not a convenient way to do so. It will take a lot of time to figure out. Most importantly no one can guarantee that the end result is true or not. That's why it is recommended using the Grade Calculator tool. The weighted grade calculator will never give false output. It is because it works on a programmed algorithm.
Use of Weighted Grade Calculator
To make the preparation more productive you must set your aim. Aim the grade you want and using our tool know what needs to go there. It will also helpful for motivating to study harder. There are a bunch of grade calculators available on the Internet. But we recommend ours because we know that it will never display false results.
This type of mistake can be very harmful to a student's career. Our algorithms have been checked and tested numerous times. As a result, we provide you the best Weighted Grade Calculator.
How to use the Amazing Grade Calculator?
First of all as it's an online service so make sure you have a proper Internet connection.
Then from any device in which you can use Internet open browser.
Visit our website (https://www.gradecalculator.tech) and wait till it completely loads.
When it completely loads up you will see a form quite similar to a result.
Enter the values one by one as required.
It supports percentage, letters and points calculation. You can select anyone of them whichever you want.
In the grade fields enter the marks scored and in weight field enter the maximum marks.
After entering recheck all the values.
When all things will be done then just click on the "Calculate" option.
Your average percentage and grade will appear. You can also see the method used for grade calculation below it.
Another useful option in the Amazing Grade Calculator is that you can set your goal grade then know how much more grade is required to reach your goal. It is optional. You can leave it if you don't want to use it. However, if you use it then you can see the addition grade needed to reach aim grade.
How Grade Calculator works?
The grade calculation process used in this amazing grade calculator is the ordinary mathematical calculation for calculating the average. It is done as follows:
Weighted Grade = W1 x G1 + W2 x G2 + W3 x G3 + W4 x G4 + W5 x G5 + …
Example:
Math course with a grade of 90 and a weight of 20%.
Physics course with a grade of 80 and a weight of 40%.
Social Science course with a grade of 85 and a weight of 25%.
The weighted average grade is calculated by:
Weighted grade =
= w1×g1+ w2×g2+ w3×g3
= (20%×90) + (40%×80) + (25%×85) = 18+32+21.25 = 71.25
When the grades are not in percentage then we need to divide achieved grades by sum of weights. Just like for five subjects:
Weighted Grade =
= (W1 x G1 + W2 x G2 + W3 x G3 + W4 x G4 + W5 x G5 +) / (W1+ W2 + W3 + W4 + W5)
Example:
5 points Math course with a grade of 90.
4 points Physics course with a grade of 85.
2 points Social Science course with a grade of 75.
The weighted average grade is calculated by:
Weighted grade =
= (w1×g1+ w2×g2+ w3×g3) / (w1+w2+w3)
= (5×90+ 4×85+ 2×75) / (5+4+2) = (450 + 336 + 150) / 11 = 85.09
Above all calculations are to calculate your exam or semester grade online. So, this tool will help you to get an estimated grade in the exam.
More Tools